The path to the top of Aasgard Pass is better known through leveraging social media in addition to a good map. In a similar way, social media can provide key information around events, products, and audiences.
When it comes to social media Twitter is the most accessible source of valuable information. Engagement can be tracked real time and over the recent past. The Data Scout used Twitter to monitor the engagement of attendees and fans for the 2015 Cyclocross National Championships in Austin TX. You can view an interactive version of the below visualization here using Chrome.
This visualization tracks twitter volume and images for the duration of the event From Jan 9, 2015 to Jan 13, 2015. Examining the data in this fashion allows us to see periods of high engagement. What was going on during these spikes? Who was responding? How is the event being viewed?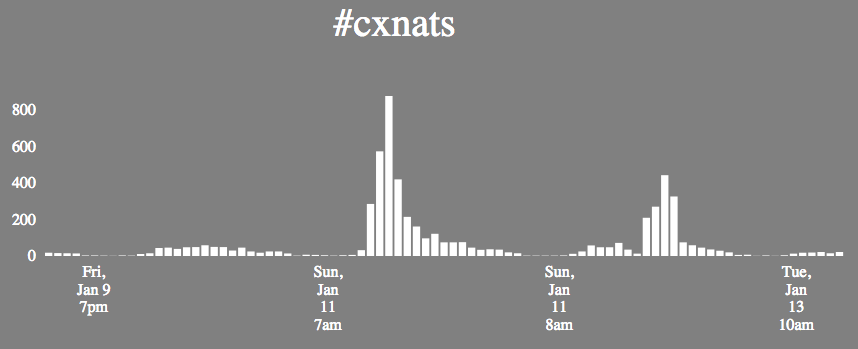 During the event, the races were briefly cancelled. As many attendees had come from afar and trained for the entire season to come to this race, they were (predictably!) frustrated with this decision. The large spike in the number of tweets correspond with the cancellation announcement: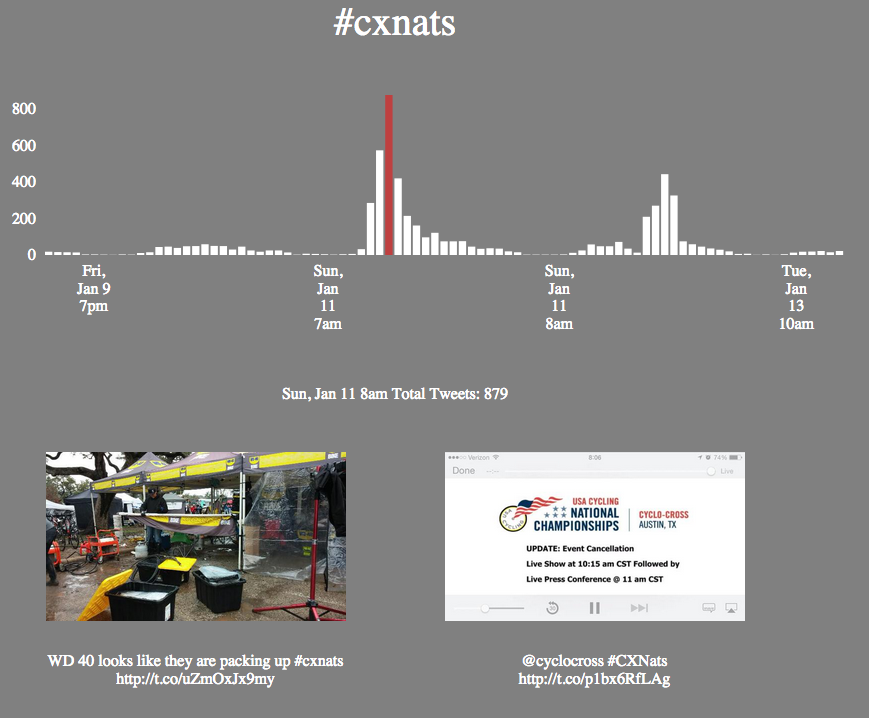 One can surmise that people are not particularly pleased with this development. Additional analysis done by The Data Scout confirmed that attendees were feeling very negatively about the event at the time of cancellation, but sentiment quickly turned a few hours later when the races were announced to be back on.
This is an excellent example of the power of social media data. Social media can also provide information about the geographic location, interests, and opinions of users. The Data Scout can create custom social media analysis solutions to help you monitor and learn from clients and potential customers to improve engagement & targeting.
Scout Tips
Extracting information from social media can be tricky. Many platforms including Facebook and LinkedIn, have very restrictive policies regarding data access. Twitter allows public tweets to be accessed, but provides a sample of only 2% of available data.
Third parties offer greater access to social media information at a price. See the discussion about additional data sources in the "How good is your map?" article.
Many tools exist to help you get a birds-eye view of social media activity, from maps showing world-wide engagement to dashboards providing feedback on how your marketing efforts measure up against others.
The Data Scout has extensive experience with social media analysis. Before heading off into the unknown get in touch with The Data Scout for some expert advice